以下の文章はある友人からの寄稿です。どういうわけか英語なんですが、まぁ読んでください。
【Cycling in Oman】
written by @omanbybike (twitter account)
Dear my friend Jin, 
Thank you for the opportunity to share my experience.
Dear my friends in Oman,
Thank you very much for your hospitality. I hope many people visit your country.
"Where is it?"  "Middle East? Is it safe there?" 
Everbody said so. Indeed, Oman is not a popular cycling destination especially for Japanese cyclist, and has some neighborhoods with travel-safety issues.
However, considering everything I experienced there, here I declare that Oman is a VERY nice country.
 There is no direct flight from Japan, and the ticket to the capital Muscat was expensive for me. I booked a ticket for DUBAI airport, and then took a bus to Oman. As for the flight, the return travel ticket cost me only USD500, though China eastern airlines charged me crazy bike fee of USD160 for one way.  
 From Jan 2019, Dubai-Muscat bus has a bus stop at Dubai airport terminal 2. The airport staff did not know that. Grab the shuttle bus to terminal 2 and go to the bus pool in front of the arrival area, then you will find a timetable for Mwasalat, Oman national but company. The driver said the bus is sometimes full, so book beforehand if you can, though Online-booking system is not working yet. They run three times a day. 55AED/5.50MR per ride. The bus is big enough for a bicycle and no special charge.
 Here's one more tip. At the Dubai immigration you will be charged 31.25AED for departure tax, which can be paid by both cash and card, though credit card fee 0.65 AED applies. At the Omani immigration, usually the arrival visa costs 20 OMR(USD60!), but for citizens of certain countries including Japan can get free arrival 21A visa if you flew into Dubai. The officer there did not know well about this, so you should print out the website of royal Oman police and show them.
<Where to ride>
 I did a cycling mostly in the mountain. Highway has very good asphalt, and other roads have good asphalt too. Even in the mountain, the gravel itself is in good condition, though I had to push in many sections due to the steepness. So steep in some sections.
<Where to sleep>
 Unfortunately, Oman has poor tourist infrastructure. No hostel, and the hotels are expensive. Instead, you can camp everywhere! Camping paradise! This is not my word. The bus driver told me. This word is true. Just respect the local people. I always asked the locals about a nice camping spot for that night. Sometimes beside the mosque, sometimes on the beach. I always pitched my tent before dark and had dinner at the "coffee shop", local restaurant. When I was eating, or writing diaries, I enjoyed talking with local people.
 "Where are you from? Japan? Cool! Where do you sleep tonight, no hotel in this town! Camping? Fine! If you want you can sleep in my house, have a shower, have a tea etc..."
 They often invited me to their house for sleep. This does not mean camping is no good, but they like hosting. Even when I was on the road locals having a picnic beside the road invited me for tea, coffee and even lunch. "It's our culture. Hosting is my pleasure." Omani guy said.
<Food and water>
 Most villages have a small restaurant, which is called coffee shop. Most of them are run by Indian people. Some coffee shops have little variety of food and in most cases they have only indian food and sandwiches. Restaurants have Omani food. The price for normal meal is around 1OMR, less than USD3.
 As for water, I never bought one. You can easily find mosques with free water server. As far as I experienced all mosques have one, even in the mountain.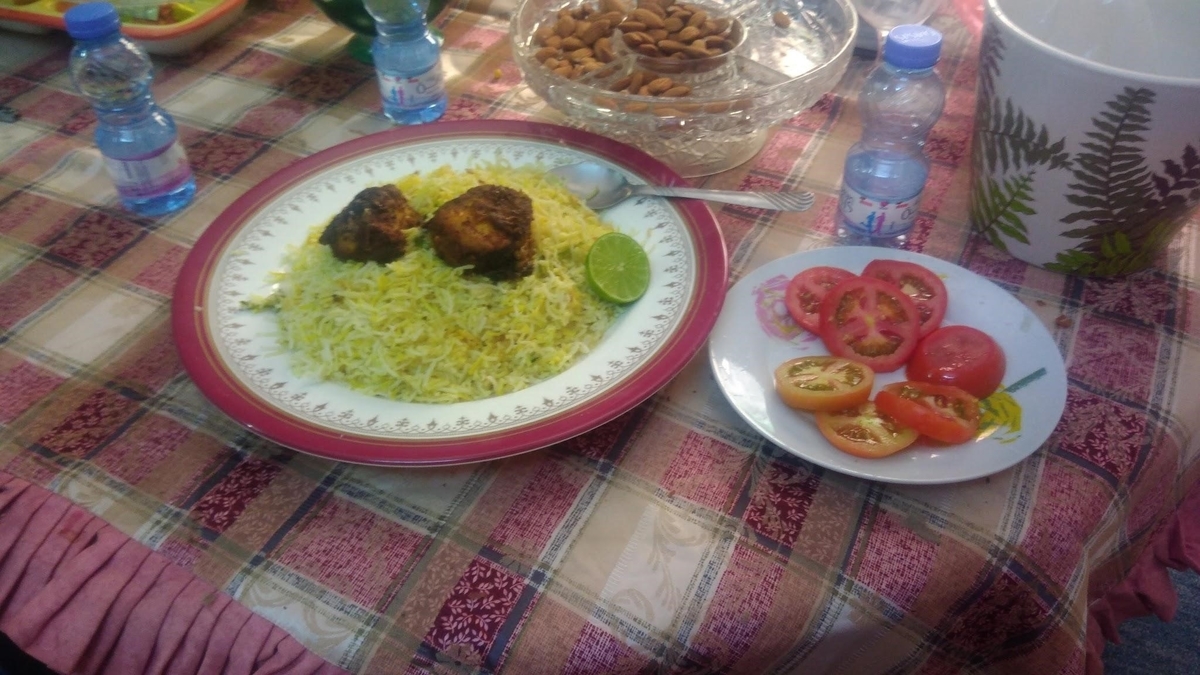 <SIM card>
 Omantel and Ooredoo are the two major companies. Local people recommended me Ooredoo and I had good 4G connection even in the mountain except for Wadi bani awf. 2OMR for the sim and 2OMR for 1GB, 10 days. I do not know about omantel.
Note; Ooredoo had a bad connection in the deep Wadi bani awf. A guy working in the guesthouse there had no connection with omantel sim. He told me omantel is usually better there, though.
<Safety issues>
 The Ministry of Foreign Affairs says Oman is a safe country, and the local people said it is very safe there. However be careful of sexual crime- some young men seem to be unsatisfied with such things. Be careful of pervert. This is not only for women but for men too. I do not want to talk about that in detail but I was about to caught in a such crime twice. Just keep saying no. In my case they ran away when I got angry and cursed in Japanese. The locals and the police said it was very rare, considering I am male. Do I look cute? I don't want to know their sexual preference.
  Don't hesitate to be invited. 99% of Omani people are nice. Sharing Omani meals, tea,  fruit, coffee, such things are interesting. Just be careful and if you feel something strange run away.
<Bike shops>
 Cycleomania in Muscat has plenty of cartoon bike boxes and they gave one for free. They seemed to have some tools too.
 I hope many people visit there and enjoy desert landscape, desert mountain and Omani hospitality. I never forget camping under a sky full of stars.